Businesses hoping for a quick end to the effects of Covid may be in for a disappointment. The latest research is showing that the P.1 variant of the virus may be resistant to some vaccines.
Brazil a tragic example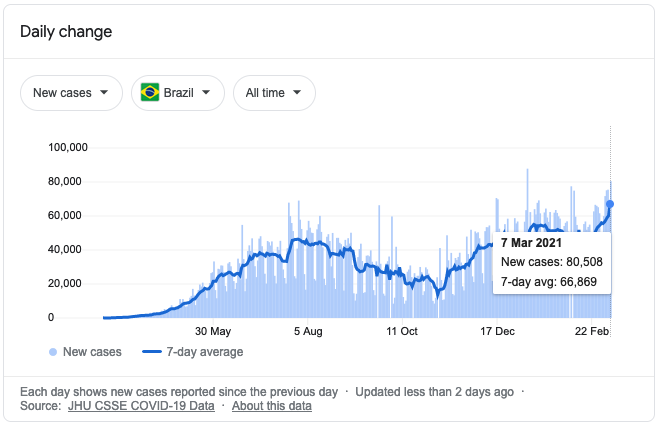 After Covid had already swept through parts of Brazil, many believed they would be immune to further infection.
Unfortunately, a new strain arrived which is up to 2.2 times more transmissible. What's worse is that some vaccines have been shown to be ineffective in stopping the spread of this strain.
Meanwhile back in the US

A number of other variants are popping up too. With a new strain responsible for the majority of Covid cases in California.
Rolling out a vaccine nationwide remains challenging, and achieving 'herd immunity' will not be possible if a large portion of the US population does not want a vaccine.
Back to square one?
The good news is that US will emerge from Covid lockdowns. However the evidence from other countries where Covid is already "under control", is that life will not completely return to normal.
There will be a new normal where continued vigilance is required.
Taking steps to reduce the spread of new variants and extra safety regulations for businesses, will be part of this new normal.
The positive takeaway here, is that the world now has useful tools in fighting virus strains:
Rapid testing

Automated contact tracing (like safer.me)

Faster development of new vaccines
We are much better equipped to do a better job the second time around.
What should a business do?
With continued vigilance and new technology, we can work together to make sure that further lockdowns are not needed at all.
Prudent workplaces will need to have contact tracing plans in place until at least the end of the year.
These measures will help to protect their workforce and mitigate the significant legal risk of not meeting their obligations to keep people safe at work.
Want to learn more about automatic contact tracing? Watch this video.
Subscribe below to get future posts from SaferMe
We send out emails once a month. We won't share your email with anyone.