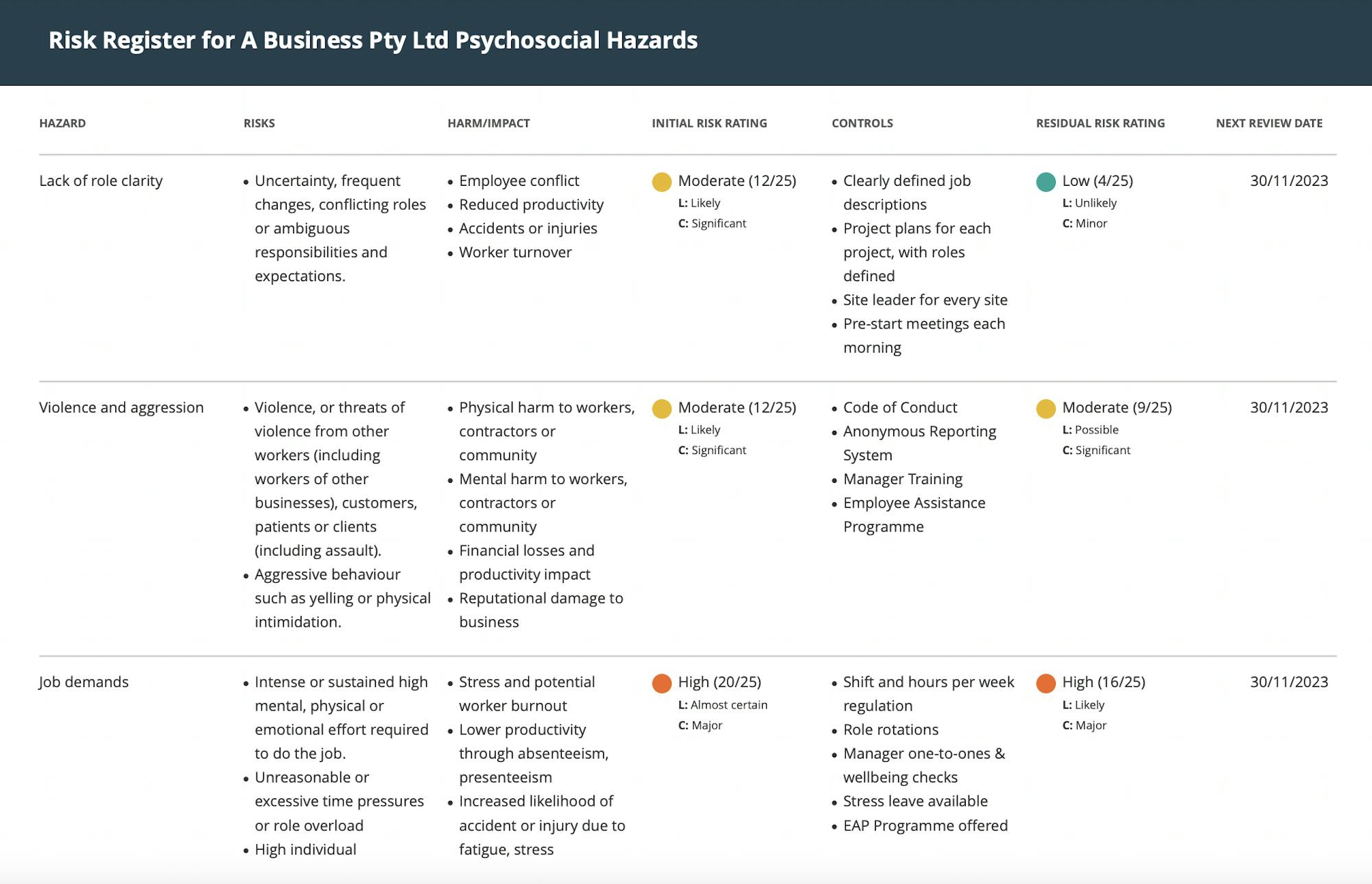 Understanding, risk assessing and monitoring psychosocial hazards is key to ensuring your business complies with Australia's new workplace psychosocial laws. Every business manager and director needs to ensure this takes place and is documented within their organisation.
Safe Work Australia's Code of Practice provides useful guidance about how businesses can go about this. One of the steps it suggests is creating a psychosocial hazard risk register.

The purpose of a risk register for psychosocial hazards is to:

Formally document that the business is aware of the different risks

Document the harm or impact these risks can have

Gather and identify controls for each risk

Score each risk using a consistent framework

Manage and document regular monitoring of the risks
All of this can be easily achieved using SaferMe's psychosocial hazard risk register software, which starts from as little as $50 per month.

How SaferMe's psychosocial hazard risk register software works

SaferMe's easy to use tool makes the documenting, review and communication of psychosocial hazards much easier than working with spreadsheets, and provides guarantees you won't have if you use editable internal documents that can't be tracked, and don't offer automated reminders.

Here are the five simple steps to successfully managing your psychosocial risk register
Input your risk scoring framework and the psychosocial hazards into SaferMe. (SaferMe even has a team who can help with this boring task!


Give each risk an initial risk rating, and a residual risk rating with controls in place.


Set a review date for each risk. This will remind senior leadership or those responsible to review the controls and risk rating at a frequency which you can choose.


Review the risks - SaferMe keeps a tracked record of the reviews and any changes made, to show you have been monitoring and managing the risks.



Download the register - You can download an easy to read PDF of the full register if you need to communicate it as part of compliance or prequalification checks, or to share with your Board of Directors.




Book a free 15 minute demo and we can get you started with your psychosocial risk register today!
Subscribe below to get future posts from SaferMe
We send out emails once a month. We won't share your email with anyone.