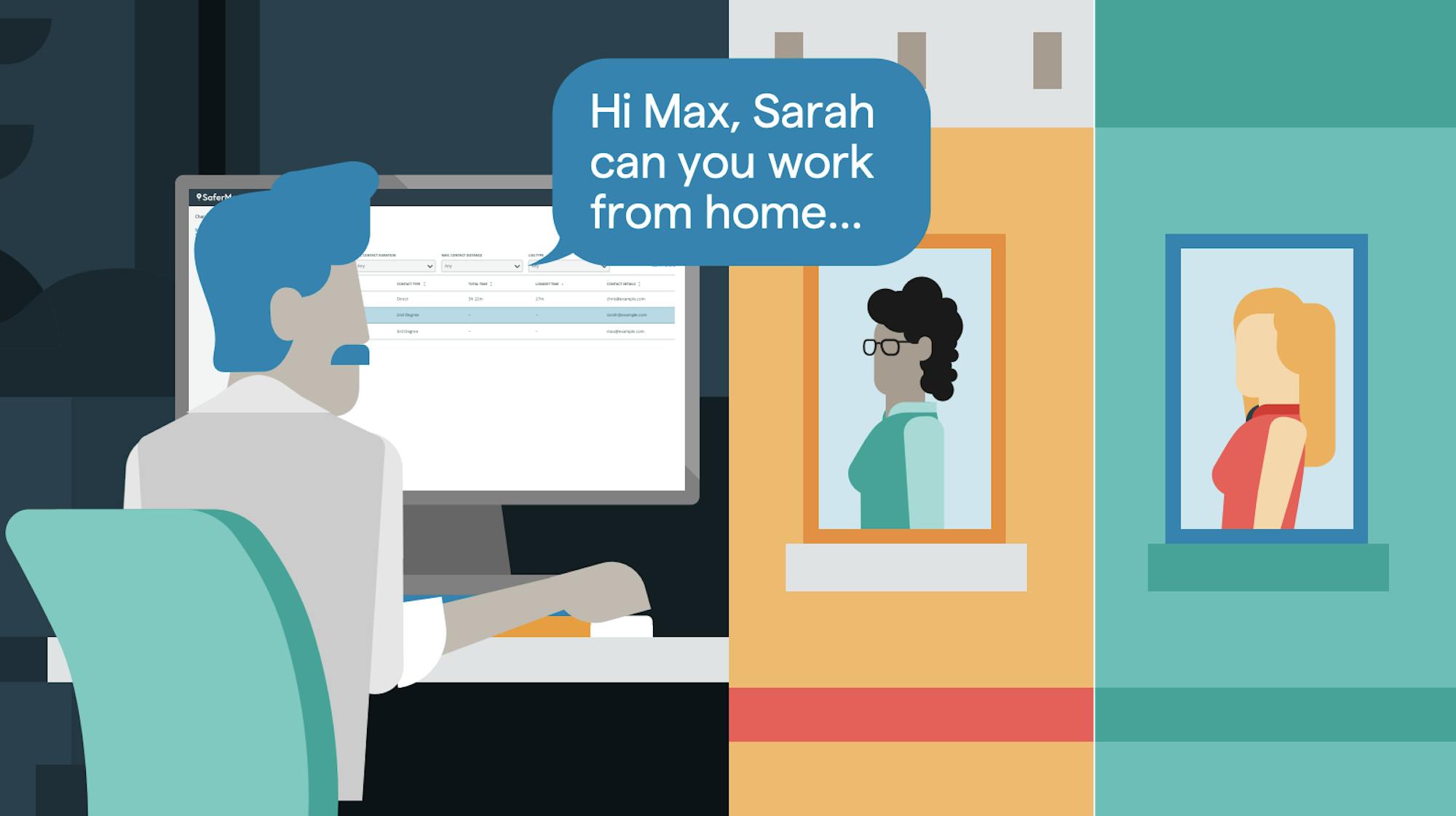 SaferMe is a global leader in safety applications and contact tracing software. With Covid-19 spreading rapidly around the world and the need for education to continue, universities and other educational institutions are choosing SaferMe to help keep students, their families and communities safe.
What SaferMe does
We give universities tools to help them identify and respond to a Covid-19 outbreak on campus. The core tools are:
A simple health survey to help students let the school know if they are well or not.

An automatic contact logger that records which students and teachers have come into contact with each other.
With these two tools we can give a school information they need to help:
Prevent students who may be ill arriving on campus.

Alert students who may have been in contact with an infected person, allowing them to get tested and prevent spreading the virus.
Why would a school or university use us?
Because they have a responsibility to keep students safe and they care genuinely about this.
Each education provider is different, but there are a few common reasons:
The school has a duty of care to keep students safe. Going to school should not be a risky activity, and contact tracing is one way to mitigate risk.

Schools care about families and the wider community. By limiting the spread of Covid-19 on campus they help keep families and the community safer, especially more vulnerable citizens such as the elderly.

They care about education. Sometimes there is no good alternative to face to face learning, so they want to make sure their learning environment can remain open. Large outbreaks of Covid-19 in education facilities will lead to closures.
What about privacy?
Part of caring about student wellbeing also involves caring about their privacy. SaferMe's tools have built-in features to help protect students' privacy. These include:
Not sharing user location. At no time do students or school staff members know the location of students. It's not required and it's not possible in SaferMe. We build a list of contacts - where the contact occurred isn't important.

All user data is encrypted and securely stored on servers located in the United States.
Education providers are given the ability to tightly control which people have access to health and contact information. Whilst every school is different, typically the only people who will have access to this information would be those in roles such as:
The school nurse - to ask students about any Covid-related symptoms they may have.

An associated medical organisation - which may be asked to arrange a test for example.

Someone in an administration role - Who will be responsible for communicating with students and/or their guardians when a student has been in contact with someone who has Covid or is symptomatic.
Can the app be turned off outside of school hours?
Yes. Each student can control turning the app off and on. It is worth considering that there are often situations outside of school hours where students come into contact with each other. For example, university students may study outside of school, attend social functions or live with one another.
The virus has zero respect for school opening hours. Students and their parents have the power to use their judgement and our app as they think is appropriate.
Schools have always been a place of leadership
Our communities around the world revolve around schools and universities. Throughout history they have been a great source of leadership.
It's great to see schools stepping up in these difficult times to enable learning to continue in the safest possible ways. SaferMe is proud to provide the tools to help make this happen, and to deliver it in a way that protects your children and their privacy, whilst helping keep them safe.
Subscribe below to get future posts from SaferMe
We send out emails once a month. We won't share your email with anyone.